Rep. Tom Reed, R-N.Y., grabbed headlines last year for contemplating a challenge to disgraced Gov. Andrew Cuomo, D-N.Y.
Now, he's resigned from Congress… amid his own scandal over sexual misconduct.
Surprise! Eggs do this to senior brains [Sponsored]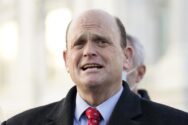 "After almost 12 years in Congress, today is my last day," Reed said on the House floor, according to The Hill. "It has been an honor to serve with you all from both parties. I love this institution, as it still exemplifies what is best about our government. We are the people's House."
He did not give a reason for his resignation but said there is more to do to put "people before politics."
Previously, Reed had been planning to retire at the end of his current term, according to last year's statement addressing the sex scandal.
The Washington Post reported in March 2021:
Nicolette Davis said she was 25, on her first networking trip as a junior lobbyist for an insurance company, when she felt the 45-year-old congressman's hand on her back. She and other lobbyists had gathered at an Irish pub in Minneapolis after a day of ice fishing, Davis told The Washington Post, and Rep. Tom Reed (R-N.Y) was seated to her left.

"A drunk congressman is rubbing my back," she texted a friend and co-worker at Aflac that evening in 2017, adding later, "HELP HELP."

Reed, his hand outside her blouse, briefly fumbled with her bra before unhooking it by pinching the clasp, Davis told The Post. He moved his hand to her thigh, inching upward, she said.

Frozen in fear, she said, she asked the person sitting to her right for help. He obliged by pulling the congressman away from the table and out of the restaurant, Davis said. …
Sponsored: Deadliest Drug Ever (are you taking it?)
Davis contacted The Post through a newsroom tip line on Feb. 11, more than a week before Reed said on Fox News that he is "seriously considering" challenging the governor in 2022 and nearly two weeks before the allegations against Cuomo began gaining traction..

She texted [her coworker Jessica] to complain about Reed rubbing her back and about a fellow lobbyist who she said was flirting with her.

"No, no, no!!'' [the coworker] responded, in an exchange she provided to The Post. "Would you like for me to call with an emergency?''

"I'm okay now!'' Davis texted back. "A nice person saved me. Thank you!!''

Once Reed was steered out of the restaurant, Davis said she went into the bathroom to refasten her bra.
Reed publicly apologized to Davis two days after the report. He said in his statement that the incident occurred "at a time in my life in which I was struggling." He said he entered treatment that year and realized he was "powerless over alcohol."
This Food Grows Cancerous Tumors – Do Not Eat It [Sponsored]
"Even though I am only hearing of this matter as stated by Ms. Davis in the article now, I will hear her voice and will not dismiss her," Reed said. "Simply put, my behavior caused her pain, showed her disrespect and was unprofessional. I was wrong, I am sorry, and I take full responsibility."
Since his resignation announcement, Reed has planned to join the P.R. firm Prime Policy Group, Punchbowl News reported Tuesday.
The office of Gov. Kathy Hochul, D-N.Y., did not immediately respond to the Associated Press's questions about when she would call a special election to fill Reed's seat before November's elections.
In Congress, Reed became known as co-chair of the bipartisan Problem Solvers Caucus a member of the powerful Committee on Ways and Means.
A former mayor of Corning, he represented the 23rd district, which includes Ithaca. The future of the district looks uncertain, due to Hochul's gerrymander of her state.
The Horn editorial team and the Associated Press contributed to this article.