The 'Oppenheimer Blue' has sold for a hammer price of 50.6 million Swiss francs ($51.3 million), setting a new record for a diamond sold at auction.
The 14.62-carat stone, billed as the largest Vivid Blue diamond ever put up for auction, obliterated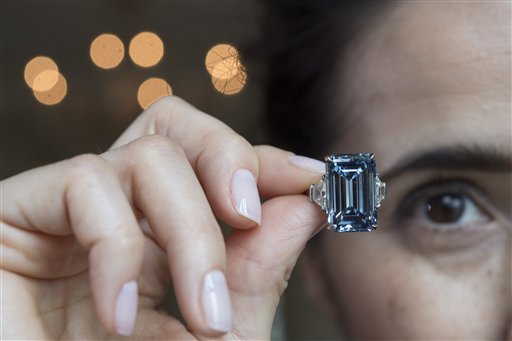 Christie's pre-sale estimate range of between 38 million and 45 million Swiss francs.
Wednesday's sale rounded out a two-day run of big-ticket jewelry auctions in Geneva. The rectangular-cut diamond has been set in a ring and flanked by two smaller trapeze-shaped diamonds.
The previous record sale for any diamond was $48.5 million of the 12.03-carat polished "Blue Moon" diamond in Geneva last year.
The diamond got its name from the late Sir Philip Oppenheimer, who long oversaw De Beers mining and had given the stone to his wife.
The Associated Press contributed to this article.