The Time's Up organization started as a movement of Hollywood's most powerful women in response to the heinous sexual crimes of disgraced mogul Harvey Weinstein.
They said their goal was simple: Advocate and fight with women against sexual harassment in the workplace.
While the organization's tax filings show that the group of liberal Hollywood celebrities aren't living up to their promises.
Weird tongue technique delivers THE BEST sleep [Sponsored]
According to The Daily Mail, the organization raised $3,670,219 in it's first year of operation.
It spent less than 10 percent on victims of sexual harassment, The Daily Mail reported — while it spent over a million dollars in donations from American citizens on executive salaries and luxury retreats for employees.
Based on the New York Post report, the organization claimed it made $3,121,427 in donations in 2018.
A hard look at the tax filings shows that only $312,001 was spent on the legal defense fund —  the pool of resources to help women in the workplace afford harassment and assault cases.
So where exactly was the rest of the money spent?
Well, more than $200,000 was reportedly spent on both luxury resort conferences and travel expenses.
Is your cellphone affecting your vision? [Sponsored]
And $1,407,032 was handed over to the salaries of the most powerful bosses involved in Time's Up — including Lisa Borders, who worked a four-month stint with the organization while collecting $342,308 for her salary.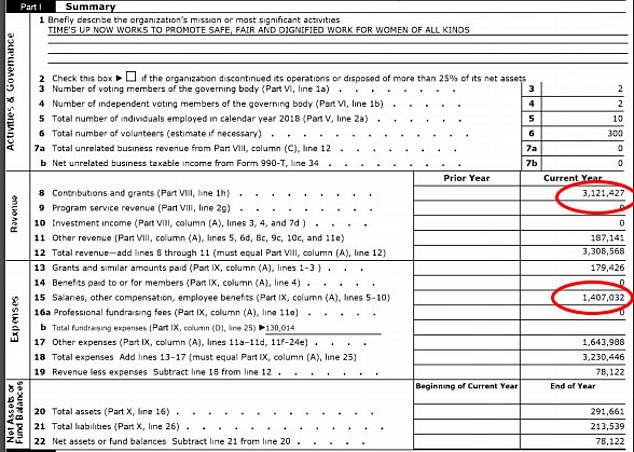 She left the organization after her son was accused of sexual misconduct.
Shocking: Hitler's Final Secret [sponsored]
The organization responded to The Daily Mail article with a lengthy statement:
TIME'S UP emerged in 2018 from an international moment of reckoning when women across industries and geographies came together and decided to turn their pain about workplace abuse into action to address systemic inequality. Our first and largest initiative was the TIME'S UP Legal Defense Fund, a groundbreaking legal advocacy program.

TIME'S UP Now raised millions of dollars for the TIME'S UP Legal Defense Fund by directing people to a GoFundMe page and to make significant pledges in 2018, all of which went directly to the program, which has been housed and administered at the National Women's Law Center (NWLC) Fund LLC from the beginning in order to jumpstart direct support for survivors in need as quickly as possible.

Already, the TIME'S UP Legal Defense Fund has provided legal resources about sex harassment at work to over 5,000 people, three-quarters of whom identify as low-paid workers. In addition, the TIME'S UP Legal Defense Fund has committed $11 million dollars in direct legal and public relations support for survivors. While most of the TIME'S UP Legal Defense Fund-backed cases are ongoing, 86 percent of the cases that have been resolved have been resolved in favor of the workers the TIME'S UP Legal Defense Fund supported.

Recognizing that abuses of power like sex harassment are only possible in workplaces that are fundamentally unequal, we also formed the nonprofit organizations TIME'S UP Now and TIME'S UP Foundation to advocate for systemic change across all industries.

Because 2018 was a start-up year for these organizations, it follows that our 2018 expenses were mostly related to our start-up costs, such as legal costs, and recruiting staff that would establish initiatives that would be launched in 2019, such as TIME'S UP Now's successful push for the TIME'S UP Safety Agenda in New York, TIME'S UP Foundation's research and policy division, the TIME'S UP Impact Lab, and our Who's in the Room mentorship program, among others.

The nonprofit sector, like many women-dominated fields, has long-grappled with under-compensation of professional employees and staff. Our compensation and benefits structures are competitive, both to reflect our commitment to the values of fair and equal pay and to attract and retain the very best talent to work to address some of the toughest, most entrenched barriers to gender equity.
The Horn editorial team