Despite dozens of people lining up in New York City for a signed copy of Hillary Clinton's new book, things may not be going as well as expected for the twice failed Democratic presidential candidate.
Even Democrats have bashed the leaked excerpts of the book, titled "What Happened", comparing it to the political equivalent of a childish blame game.
Sponsored: Classless Hillary Caught Making Gross Hand Gesture
It's not just Washington, D.C. that's sick of her. It seems the American people are tired of listening to Hillary — and they are letting their cash do the talking.
Desperate to push sales, major retailers like Amazon and Wal-Mart have already begun offering the book at clearance-level prices.
According to The Washington Examiner, major retailers have already relegated the book to the sale section, slashing the price by 40% on the first day of publication.
Hidden message FOUND in Obama's tie?! [sponsored]
Book publishers rely on heavy pre-sales and first day buzz to generate much of their revenue. The industry makes as much as 30% of a book's total revenue on the first day – an ominous fact when you consider how desperate these two majors sellers are to get rid of their inventory.
This wouldn't be Hillary's first book sales failure, of course.
Her 2014 book, "Hard Choices" — which paid her $14 million in an advance — was a total flop.
Sponsored: An American Prophecy the mainstream media is not reporting on
According to reports, sales of the 2014 book fell significantly short of the break even point, causing publisher Simon & Schuster to lose millions of dollars.
To Amazon's credit, their sales stunt seemed to have worked. Hillary's latest book — at a serious discount — has managed to claw it's way to the top of Amazon new releases on Tuesday.
Not to be outdone, however, voters of President Donald Trump have organized and flooded into book stores across the country to undo the damage.
Sponsored: Trump SLAMS Hillary in just 0:07 seconds
They've begun buying up copies of Trump's book, "Great Again: How To Fix A Crippled America" — and their movement quickly gained steam.
In just hours, Trump voters had increased the sales of two editions of the presidents book by a staggering 14,286% and 6,110%, respectively.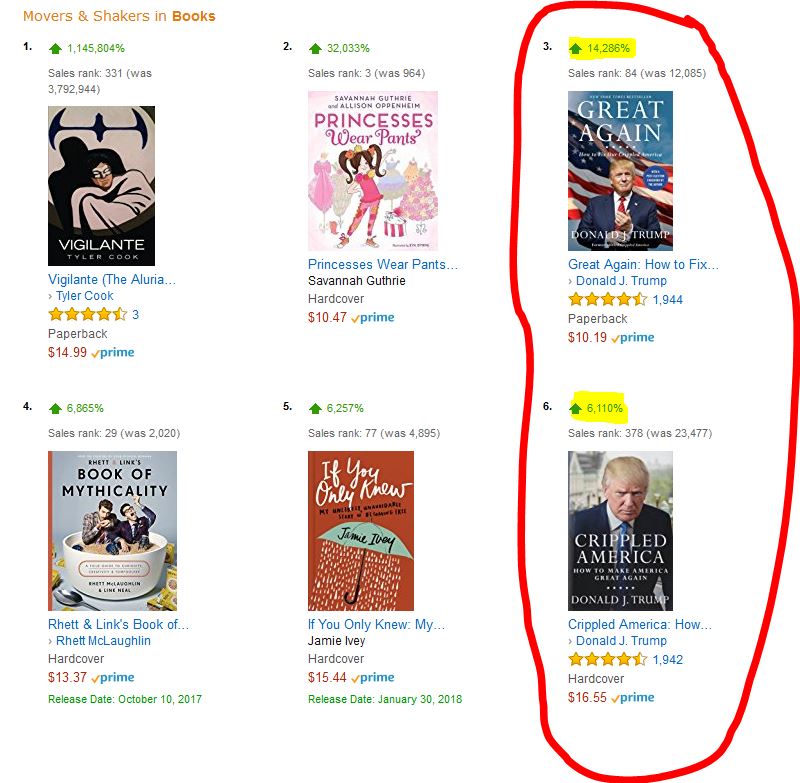 Where does that rank Trump's book sales?
As of 2:30pm EST, it was #1 overall on Amazon's best seller list for United States National Government.
Hillary's wasn't even ranked.
— The Horn editorial team