D-list celebrity Kathy Griffin's latest publicity stunt is so horrific, she has since been compared to ISIS.
In a bizarre photo shoot that lacked any logical public relations advice, the notoriously shocking photographer Tyler Shields captured Griffin holding Trump's bloody severed head.
Exposed: Shocking government program secretly testing on seniors (sponsored)
The image, obtained by TMZ, drew backlash from public figures all across the nation, even the Secret Service who is reportedly investigating the photo and "the circumstances surrounding the photo shoot."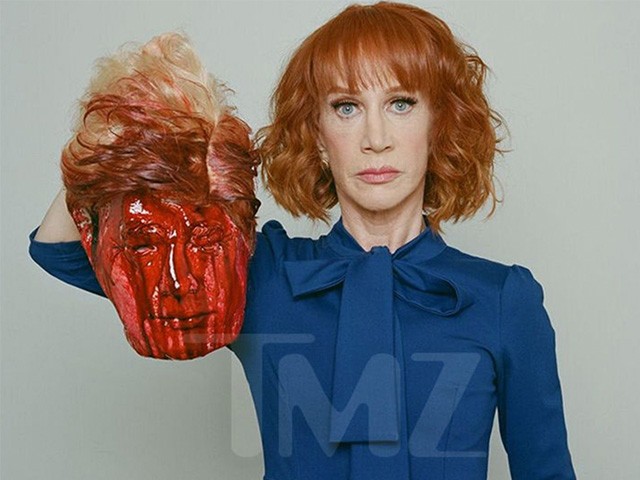 Griffin has been vocally critical of Trump in the past, creating a mock advertisement during his presidential campaign in which she repeatedly told him to "f*ck off."
[Shocking] Video exposes bizarre 2017 prophecy (sponsored) 
But this latest stunt went too far, even for liberal celebs.
CNN host Anderson Cooper set the record straight on his opinion of the photo:
For the record, I am appalled by the photo shoot Kathy Griffin took part in. It is clearly disgusting and completely inappropriate.

— Anderson Cooper (@andersoncooper) May 31, 2017
Even the daughter of Trump's ex-rival Chelsea Clinton tweeted out condemning Griffin for the horrific image:
Sponsored: Trump SLAMS Hillary in just 0:07 seconds
This is vile and wrong. It is never funny to joke about killing a president. https://t.co/zIiuKoMyFw

— Chelsea Clinton (@ChelseaClinton) May 30, 2017
Media analyst Mark Dice called out Griffin for her likeness to terrorists in a tweet:
Kathy Griffin is the embodiment of the average American liberal A psychotic lunatic who has more in common with ISIS than with the U.S. pic.twitter.com/5zlBwRv245

— Mark Dice (@MarkDice) May 30, 2017
Trump himself took to the social media platform to acknowledge how difficult the image has been for his children to see:
Kathy Griffin should be ashamed of herself. My children, especially my 11 year old son, Barron, are having a hard time with this. Sick!

— Donald J. Trump (@realDonaldTrump) May 31, 2017
After nationwide backlash, Griffin began to see her paycheck disappearing.
She has co-hosted CNN's coverage of New Year's Eve in the past but that appearance is now clearly in jeopardy.
Sponsored: Did a 1934 Prophecy Predict These Earth Shattering Events? 
CNN called the images "disgusting and offensive" and said in a statement, "We are evaluating New Year's Eve and have made no decisions at this point."
But it gets even worse for Griffin. She's even too disgusting for bathroom products!
The bathroom product company Squatty Potty, inventor of the foot rest intended to improve your posture while sitting on the toilet, said in a statement Tuesday that it has suspended an ad campaign featuring Griffin.
Sponsored: Simple bathroom habit deadlier than cigarettes
After losing multiple jobs, Griffin realized an apology was necessary for her career and posted a video to twitter in which she acknowledged she "crossed the line."
I am sorry. I went too far. I was wrong. pic.twitter.com/LBKvqf9xFB

— Kathy Griffin (@kathygriffin) May 30, 2017
–The Horn editorial team