U.S. women's bobsledder Lauren Gibbs is going home from Pyeongchang Olympics with a silver medal. But her athletic achievements were ignored entirely by angry leftists after she posed with a simple selfie with Ivanka Trump.
Gibbs was forced to remove a tweet featuring a picture of Trump and Press Secretary Sarah Huckabee Sanders that called for national unity after an angry, unhinged backlash from leftists on social media.
Hillary's Crooked Slush Fund: Guess Where the Money Came From? [sponsored]
A screenshot of her tweet reads —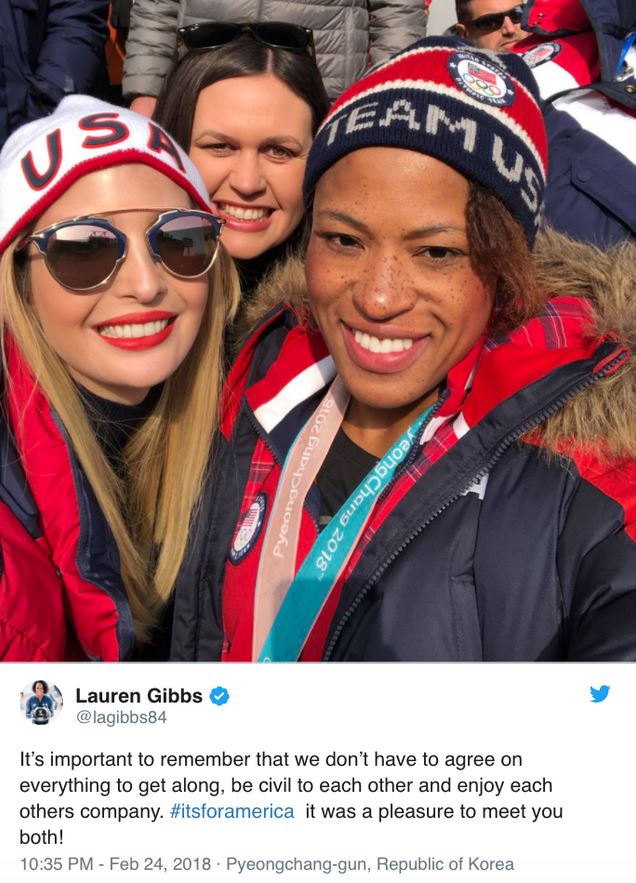 Gibbs spent part of her Sunday morning watching the four-man bobsled competition with Trump, the daughter of U.S. President Donald Trump. Ivanka Trump was part of the U.S. delegation in Pyeongchang for the end of the games, and has been in South Korea since Friday.
The president's daughter says that while she prefers skiing as her top winter sport, her children are more fans of bobsledding.
Alzheimer's-Reversing Cocktail Receives Nationwide Recognition [sponsored]
Gibbs wore the silver medal that she and Elana Meyers Taylor won in the women's bobsled event at Pyeongchang, and grabbed a selfie with Trump during the third heat of the men's finale Sunday.
However, in the face of angry threats against her, Gibbs ended up removing the tweet.
There are too many things in this world to worry about to let a selfie ruin your day. I hope you can get over it… wishing you the best

— Lauren Gibbs (@lagibbs84) February 26, 2018
Her teammate, Taylor, rushed to her defense —
Deadly item lurking in your pantry [sponsored]
.@lagibbs84 and I work hard to ensure we're positive examples of our race, ethnicity, and gender. Choosing to spread love is never a bad thing, even if it's explaining bobsled to a politician's daughter. The only way to fight hated and bigotry is through love

— Elana Meyers Taylor OLY (@eamslider24) February 25, 2018
Gibbs ended up removing the tweet, and wrote that she "deleted (by choice) the photo because I was tired of reading the hate being thrown back and forth."
— The Horn editorial team