Black hearses carried six of the eight family members slain in southern Ohio to a hillside cemetery, where mourners crowded around blue tents shielding the caskets Tuesday.
Some showed up to the last of three funerals for the victims wearing blue jeans, ball caps and bright orange shirts with the words "Rhoden Proud, Rhoden Strong."
Deputies were posted outside the church where the funeral was held as authorities continue chasing leads on the slayings.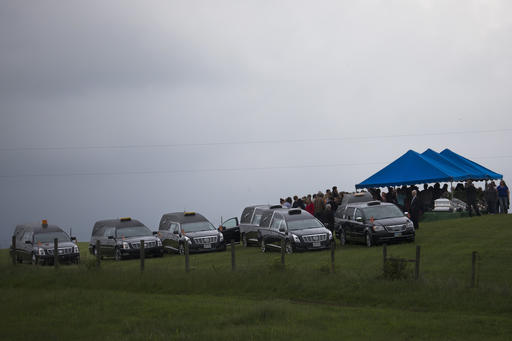 Seven adults and a 16-year-old boy from the Rhoden family were found dead April 22 at four homes scattered across a few miles of countryside near Piketon, about 80 miles east of Cincinnati. All eight were shot in the head, some had other gunshot wounds and bruising, and none of the deaths appeared self-inflicted, authorities said. Three young children were unharmed.
Tuesday's funeral honored 40-year-old Christopher Rhoden; his ex-wife, 37-year-old Dana Rhoden; their three children, 20-year-old Clarence "Frankie" Rhoden, 16-year-old Christopher Jr., and 19-year-old Hanna; and Christopher Rhoden Sr.'s brother, 44-year-old Kenneth Rhoden.
A victim's advocate speaking for the family said he hopes the healing can begin soon.
David Dickerson, who works for the Pike County prosecutor's office, called the funeral extremely somber and said the family is grateful for the support they've received.
The Rev. Mark Seevers said he didn't know the family, but they had requested space at the Dry Run Church of Christ in West Portsmouth and the church wanted to serve them.
"The southern Ohio community is a close-knit family, and even though it was, you know, 20 to 30 minutes away, it rocked our community," Seevers said. "Everyone is grieving and mourning."
Authorities are still trying to determine who killed the victims and why. They have conducted nearly 130 interviews and are reviewing about 450 tips and more than 100 pieces of evidence, Attorney General Mike DeWine said Monday.
They found a large-scale illegal marijuana growing operation at one of the crime scenes and said pot was being cultivated at some of the other homes, too — something not uncommon in this corner of Appalachia — but they haven't said whether they believe that to be connected to a motive.
DeWine said he wouldn't speculate as to whether a threat to the family remains. On the day the bodies were discovered, law enforcement officials urged other members of the Rhoden family to take precautions since it appeared the family was targeted.
"We have no new information that would indicate that there is a threat to any of the members of the family," he said. "We don't have any information on that. And we did not when we initially said it other than the fact we had eight people killed."
The funeral home titled their online obituary simply "The Rhoden Family," with a section listing how each of those victims was linked to the others and their survivors.
Services for a cousin, Gary Rhoden, 38, were held Thursday in South Shore, Kentucky. Mourners remembered Frankie Rhoden's fiancee, 20-year-old Hannah Gilley, at a funeral Saturday in Otway.
The Associated Press contributed to this article.