Award-winning Fox News contributor Charles Krauthammer died Thursday after losing his battle with cancer. He was 68 years old.
The Pulitzer Prize-winning columnist and pundit helped shape and occasionally dissented from the conservative movement as he evolved from "Great Society" Democrat to Iraq War backer.
His Thursday death was announced by two organizations that were longtime employers, Fox News Channel and The Washington Post.
Krauthammer had said publicly a year ago he was being treated for a cancerous tumor in his abdomen and earlier this month revealed that it had returned, and he had just weeks to live.
Sponsored: The results we're seeing are astounding!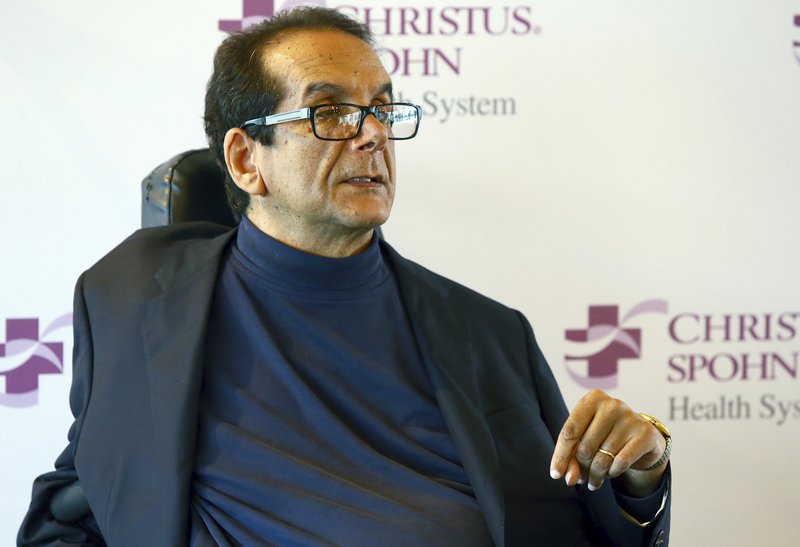 "I leave this life with no regrets," Krauthammer wrote in The Washington Post, where his column had run since 1984. "It was a wonderful life — full and complete with the great loves and great endeavors that make it worth living. I am sad to leave, but I leave with the knowledge that I lived the life that I intended."
Sometimes scornful, sometimes reflective, he was awarded a Pulitzer in 1987 for "his witty and insightful" commentary and was an influential voice among Republicans, whether through his syndicated column or his appearances on Fox News Channel. He was most associated with Brit Hume's nightly newscast and stayed with it when Bret Baier took over in 2009.
Krauthammer is credited with coining the term "The Reagan Doctrine" for President Reagan's policy of aiding anti-Communist movements worldwide. He was a leading advocate for the Iraq War and a prominent critic of President Barack Obama, whom he praised for his "first-class intellect and first-class temperament" and denounced for having a "highly suspect" character.
Sponsored: Doctor's trick helps anyone fall asleep in minutes
Krauthammer was a former Harvard medical student who graduated even after he was paralyzed from the neck down because of a diving board accident, continuing his studies from his hospital bed. He was a Democrat in his youth and his political engagement dated back to 1976, when he handed out leaflets for Henry Jackson's unsuccessful presidential campaign.
But through the 1980s and beyond, Krauthammer followed a journey akin to such conservative predecessors as Irving Kristol and Norman Podhoretz, turning against his old party on foreign and domestic issues. He aligned with Republicans on everything from confrontation with the Soviet Union to rejection of the "Great Society" programs enacted during the 1960s.
"As I became convinced of the practical and theoretical defects of the social-democratic tendencies of my youth, it was but a short distance to a philosophy of restrained, free-market governance that gave more space and place to the individual and to the civil society that stands between citizen and state," he wrote in the introduction to "Things That Matter," a million-selling compilation of his writings published in 2013.
BREAKING: Is Big Pharma turning this popular memory-booster into a "smart drug"? [sponsored]
For The Post, Time Magazine, The New Republic and other publications, Krauthammer wrote on a wide range of subjects, and in "Things That Matter" listed chess, baseball, "the innocence of dogs" and "the cunning of cats" among his passions. As a psychiatrist in the 1970s, he did groundbreaking research on bipolar disorder.
But he found nothing could live apart from government and the civic realm. "Science, medicine, art, poetry, architecture" and other fields were "fundamentally subordinate. In the end, they must bow to the sovereignty of politics."
Ever blunt in his criticisms, Krauthammer was an "intense disliker" of the liberal columnist E.J. Dionne, he told Politico in 2009. And opponents had words for him. Christopher Hitchens once called him the "newest of the neocon mini-windbags," with the "arduous job, in an arduous time, of being an unpredictable conformist."
Sponsored: Cutting edge diabetes cure now available to the public
He was attacked for his politics, and for his predictions. He was so confident of quick success in Iraq he initially labeled the 2003 invasion "The Three Week War" and defended the conflict for years. He also backed the George W. Bush administration's use of enhanced interrogation as an "uncontrolled experiment" carried out "sometimes clumsily, sometimes cruelly, indeed, sometimes wrongly. But successfully. It kept us safe."
The former president praised Krauthammer after hearing of his death.
"For decades, Charles' words have strengthened our democracy," George W. Bush said in a statement. "His work was far-reaching and influential — and while his voice will be deeply missed, his ideas and values will always be a part of our country."
Krauthammer was sure that Obama would lose in 2008 because of lingering fears from the Sept. 11, 2001 attacks, and foresaw Mitt Romney defeating him in 2012.
Sponsored: How to get PERFECT cholesterol [It's easy]
But he prided himself on his rejection of orthodoxy and took on Republicans, too, observing during a Fox special in 2013 that "If you're going to leave the medical profession because you think you have something to say, you betray your whole life if you don't say what you think and if you don't say it honestly and bluntly."
He criticized the death penalty and rejected intelligent design as "today's tarted-up version of creationism." In 2005, he was widely cited as a key factor in convincing Bush to rescind the Supreme Court nomination of the president's friend and legal adviser Harriet Miers, whom Krauthammer and others said lacked the necessary credentials.
Krauthammer married Robyn Trethewey, an artist and former attorney, in 1974. They had a son, Daniel, who also became a columnist and commentator.
Sponsored: Urgent Notice from the FDA
The son of Jewish immigrants from Europe, Krauthammer was born in New York City and moved with his family to Montreal when he was 5, growing up in a French speaking home. His path to political writing was unexpected. First, at McGill University, he became editor in chief of the student newspaper after his predecessor was ousted over what Krauthammer called his "mindless, humorless Maoism."
In the late 1970s, while a psychiatric resident at Massachusetts General Hospital, a professor with whom he had researched manic depression was appointed to a mental health agency created by President Jimmy Carter. Krauthammer went, too, began writing for The New Republic and was soon recruited to write speeches for Carter's vice president and 1980 running mate, Walter Mondale.
Carter was defeated by Reagan and on Jan. 20, 1981, Reagan's inauguration day, Krauthammer formally joined The New Republic as a writer and editor.
Sponsored: Trump's relationship with Russia
"These quite fantastic twists and turns have given me a profound respect for serendipity," he wrote in 2013. "A long forgotten, utterly trivial student council fight brought me to journalism. A moment of adolescent anger led me to the impulsive decision to quit political studies and enroll in medical school. A decade later, a random presidential appointment having nothing to do with me brought me to a place where my writing and public career could begin.
"When a young journalist asks me today, 'How do I get to a nationally syndicated columnist?' I have my answer: 'First, go to medical school.'"
The Assocaited Press contributed to this article.