A news anchor for Fox News is coming clean after she was involved in a strange incident.
Hair Regrowth Now Possible? [sponsored]
Feven Kiflegiorgis — otherwise known as Feven Kay — was found naked and asleep in her car early the morning of March 20, according to authorities. She works for Fox News affiliate Fox 5 Las Vegas .
Officers told the Las Vegas Review-Journal they smelled alcohol on Kiflegiorgis' breath.
Kiflegiorgis said she has no memory of how she wound up naked and behind the wheel.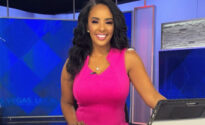 The popular news anchor, who has more than 15,000 followers on social media platform Instagram, broke the silence about her absence and recently addressed the incident. She made a heartfelt apology to viewers.
"Last month, I was arrested by Metro for driving under the influence," Kiflegiorgis said in the segment. "At the time of the arrest, I was inside of a parking vehicle in a Las Vegas neighborhood alone."
"Many of you noticed I've been off-air for a few weeks," she said. "To all of you who have reached out, a sincere thank you for your concern."
Sponsored: Coronavirus vaccine mayhem is starting
"As I move forward, I want you to know I have learned from this and I will continue learning and I truly thank you for your support," she continued.
You can see the video below —
According to The New York Post, she was charged with "reckless driving with a disregard for the safety of a person or property," although Kiflegiorgis says the charge was reduced to a misdemeanor offense.
1 Surprising Food that Feeds Cancer Cells [sponsored]
Las Vegas Review-Journal also noted she was ordered to pay a fine of $1,000 and attend driving school.
The Horn editorial team