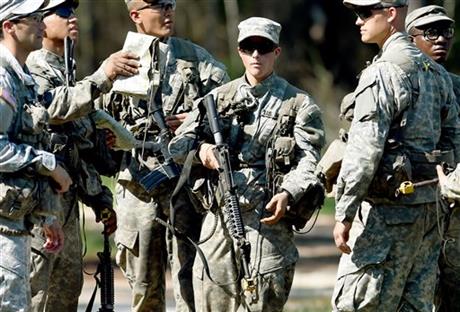 The US Army has officially opened it's Army Ranger School to all women, following the graduation of the first two females from the elite training program.
An Apache helicopter pilot from Texas and a military police officer from Connecticut are the first women to complete the Army's grueling Ranger School.
Capt. Kristen Griest of Orange, Connecticut, and 1st Lt. Shaye Haver of Copperas Cove, Texas, graduated  alongside 94 male soldiers at Fort Benning, Georgia earlier this month.
The two-month Ranger course tests soldiers' ability to overcome fatigue, hunger and stress during combat operations. The Army opened Ranger School to female soldiers for the first time this year as part of the military's push to open more combat jobs to women.
"It's just completely amazing," Chris Haver, Haver's father, told The Associated Press. "I'm super proud. I know a lot of guys that have been through it and tell me how hard the course is. They tell me it's the toughest, most mentally demanding course they've been too."
Both women are graduates of the U.S. Military Academy at West Point.
Haver followed in her father's footsteps when she became a pilot of attack helicopters. He said he also served as a career Army aviator who flew Apaches.
Haver's father said she's always been mentally tough and incredibly physically fit. He said she has run marathons and was a member of the triathlon team at West Point.
"She's kind of built for this thing," Chris Haver said.
The Associated Press contributed to this story