According to critics of Hillary Clinton, the Democratic presidential candidate has gotten away with fraud, corruption, electioneering, and some conspiracy theorists say even murder.
Now the Clinton campaign could finally be undone… thanks to Donald Duck.
No, really. This isn't the funny pages, folks. And this new bombshell means Clinton is in a lot of trouble.
New undercover video appears to contain proof that her campaign conspired with the Democratic candidate to break federal election law.
But this  revelation isn't about Benghazi, has nothing to do with her email scandal and isn't even in the WikiLeaks.
Instead, it's about a dopey campaign stunt involving the Disney character has been exposed by a new hidden-camera video, revealing it to be the alleged result of direct coordination between the campaign and a super PAC – and according to the video, it was all directly ordered by Clinton.
At the heart of this issue is someone in a Donald Duck costume wearing a Trump wig showing up at Republican events with a sign accusing the presidential candidate of "ducking" the release of his taxes.
---
Sponsored: Did Obama just declare war?
Did you know president Obama publicly declared war on Alzheimer's disease in June of 2010?
By signing the National Alzheimer's Project Act (NAPA) into law, he created a massive nationwide task force of scientists and researchers under the direction of Health and Human Services secretary Kathleen Sebelius. They got millions in funding, and a green light for hundreds of new studies…
And in September of 2014, one of those studies hit it big – but the Obama regime isn't telling anyone about it.
Using a completely new kind of "protocol," researchers from the UCLA Neurology Department have been REVERSING Alzheimer's disease in 90% of patients.
Yet the Obama administration is ignoring this research. Why?
Click here for the shocking truth.
---
It's childish… ridiculous… and has nothing to do with the issues.
So of course it's no surprise at all to learn this came straight from the mind of Hillary Clinton, according to the video released by James O'Keefe's Project Veritas.
The consequences are no laughing matter. Illegal coordination between a political campaign and a Super PAC is very difficult to prove, so it's rarely prosecuted. But the video contains a smoking gun — political insiders confess to Clinton's direct involvement.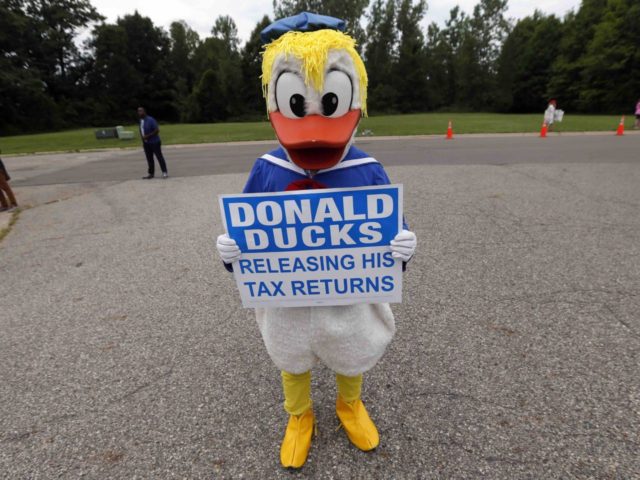 "In the end, it was the candidate, Hillary Clinton, the future president of the United States, who wanted ducks on the ground," Democratic consultant Robert Creamer said in the video, which was posted online on Monday by O'Keefe. "So by God, we would get ducks on the ground."
Creamer, a convicted felon, allegedly got Americans United for Change to find someone to wear the costume.
That's a super PAC… and as such, the campaign isn't supposed to coordinate with them.
In fact, this exact kind of illegal coordination between campaigns and a super PAC led to the arrest and conviction of Republican political insider Chris Harber in 2005. Harber was sentenced to two years for his actions.
"The direct involvement of the campaign and the Democratic National Committee with Americans United for Change and activists wearing Donald Duck costumes smacks strongly of illegal coordinated campaign expenditures," Project Veritas said in a statement.
Other statements in the video are every bit as damning as Creamer recalled getting a call from none other than Christina Reynolds, the Hillary For America Deputy Communications Director
"Christina Reynolds calls saying, 'I have good news and bad news,'" he says in the clip. "'The good news is the candidate would like to have a mascot following around … Trump. But the bad news is she wants it to be Donald Duck.'"
The "bad news" wasn't so bad for Creamer.
"My answer is, 'Christina, if the future president wants ducks, we will put ducks on the ground,'" he said.
Elsewhere, Creamer offers the clearest indication of all that what he was doing was wrong.
"Don't repeat that to anybody," he says.
No doubt, Creamer and his Democratic pals were patting themselves on the back over the stunt, boasting at their wine-and-cheese soirees of just how clever they are – but it looks like they were easily outsmarted by a citizen journalist and a hidden camera.
Aw, phooey!
— The Horn editorial team