Democratic Rep. Brenda Lawrence used her time at the State of the Union to do more than listen to President Donald Trump's moving speech.
A photographer caught an image of Lawrence playing a popular smart phone game "Candy Crush" while the president gave his address Tuesday night.
She could be seen from the balcony of the House chamber tapping away at the digital jellybeans and gumdrops as Trump projected a speech about unity — proof how much these liberal lawmakers actually care about leading.
Sponsored: Biggest Cash Grab In U.S. History!
See the disturbing photo here —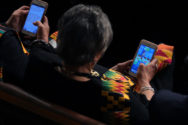 Sponsored: When Olympic athletes have stiff joints, they do THIS…
The photo also shows another fellow Democrats using their phones to type an email.
"Getty Images told The Daily Mail that the photographer took the photo at 9:42 p.m., at a time when Trump was discussing the need for other nations to agree to fairer, more reciprocal trade deals with the United States," explained the Detroit Free Press.
Are these snowflakes so self-absorbed that they could not put their phones down for one hour?
Only once a year are these addresses given, and Trump deserves the same respect as his predecessors.
Lawrence and her fellow Congressional Black Caucus members work black to represent the victims of sexual abuse. They also wore a traditional West African kente cloth to show support for African nations that liberals claim Trump called "s***holes".
Sponsored: How Hillary's New Book Means BIG TROUBLE for Democrats
If these snowflakes did not want to pay attention to the message that Trump was delivering, they should have given their seats up to others who deserved to be there more.
–The Horn editorial team