Widespread flooding in the Upper Midwest was blamed for at least one death in Wisconsin, while disaster declarations were issued Monday in northern Michigan after flash-flooding washed out roads, damaged businesses and caused dozens of sinkholes.
The body of a 75-year-old man was recovered about 60 feet from his pickup truck in a ditch along a flooded road Sunday in White River, the Ashland County Sheriff's Office said Monday. Sheriff's officials said the investigation was ongoing but that the death was flood related.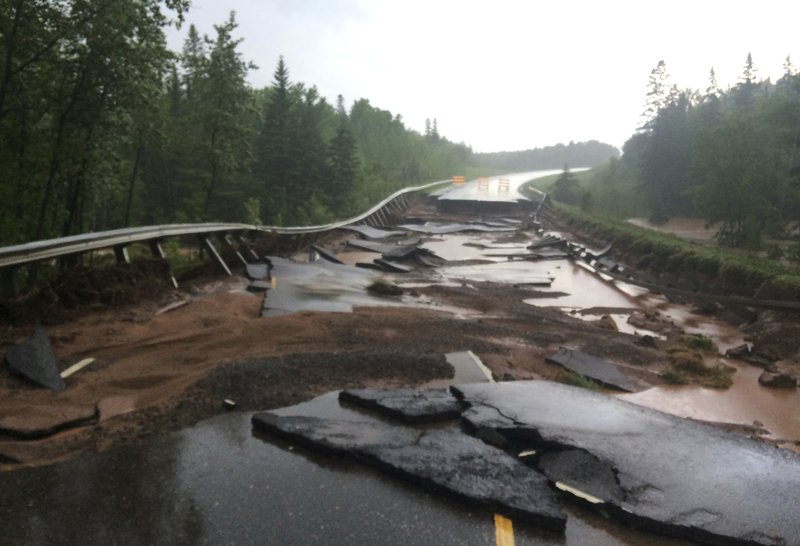 Heavy rains also flooded roads in northern areas of Minnesota, causing some sections to collapse. In parts of Michigan's Upper Peninsula, where up to 7 inches of rain was reported, swollen waterways washed away roads, leaving behind large chunks of concrete and asphalt, making some streets impassible.
Sponsored: Doing THIS before bed stops PAIN
"The majority of us can't even get home. Roads are collapsed. Bridges are collapsed. Roads are covered in water. Whatever roads aren't collapsed it depends on how heavy of a vehicle you drive whether or not you are able to drive on those roads," Tom Cowell, who lives in Chassell, a community on a peninsula in Lake Superior, told local television station WLUC.
"This is a pretty wild experience that we are having here," he said.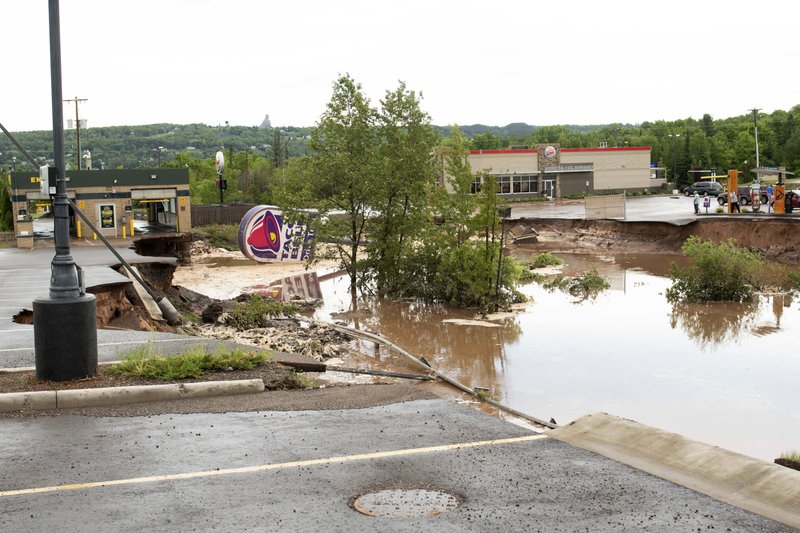 In nearby Houghton, a swollen creek washed away much of a parking lot and a Taco Bell sign. The land up to the restaurant's building caved into an adjacent ravine. Water rushed down a hilly street through businesses, including a comic book store and sporting goods shop where employees were trying to salvage goods.
Some residents used boats to get around, though the U.S. Coast Guard warned people to stay out of recreational waterways because of the amount of storm debris. The agency also warned that the water is still very cold and could be deadly.
[Uncensored] You won't believe what Hillary was really hiding… [sponsored]
Michigan Gov. Rick Snyder's office issued disaster declarations for Houghton and Menominee counties on Monday, which will allow the National Guard to deploy to the area to help with road repairs. Snyder's office said "hundreds of homes, businesses and public facilities and infrastructure" have been severely affected in the area.
In Wisconsin, Gov. Scott Walker on Monday declared a state of emergency in five northwestern counties— Ashland, Bayfield, Burnett, Douglas and Iron. Walker planned to tour flood damage Monday night.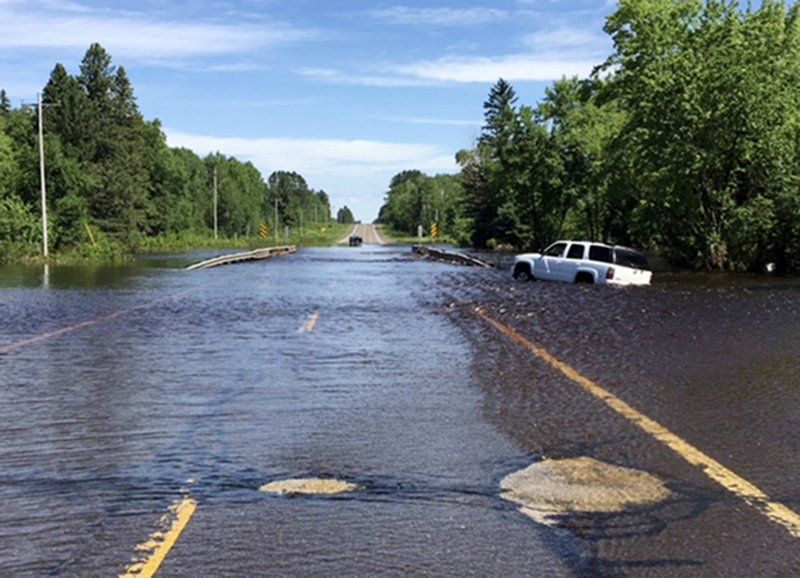 Michigan Tech University and Finlandia University remain closed Monday because of the flooding and road conditions.
Flash flooding over the weekend also caused extensive damage to roads and highways in Wisconsin and Minnesota, including U.S. Highway 2, a major thoroughfare across northwestern Wisconsin. Summer-school classes were cancelled in the Superior School District because of flooding and damaged roads, according to the district.
Sponsored: We're learning even more about Trump and Russia
As much as 10 inches of rain fell Saturday and Sunday in parts of eastern Minnesota, pushing the Nemadji River out of its banks, while 15 inches of rain fell in Drummond, Wisconsin, southeast of the Iron River, according to the National Weather Service.
The rains caused an earthen dam to fail Monday in a rural area of northwestern Wisconsin. Water was overtopping the Radigan Flowage Dam west of Dairlyland in an area where few people live, said Douglas County Emergency Management Director Keith Kesler. He said he was unaware of any evacuations.
The weather service on Monday extended a weekend flood warning through Thursday for northwestern Wisconsin and neighboring areas in Minnesota.
The Associated Press contributed to this article.