Country music superstar Dolly Parton has paid a surprise visit to a senior center in Tennessee, where she sang, lifted weights and joked about her age.
The Knoxville News Sentinel reports Parton came for a dedication ceremony Monday to give the facility a new name: the My People Senior Activity Center, in honor of her parents, Robert and Avie Lee Parton. Parton is a native of Sevierville in the foothills of the Great Smoky Mountains.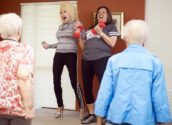 The 72-year-old singer joked that she's a senior, too, and made fun of her plastic surgery.
Sponsored: You can use your own body to cure virtually ALL diseases [SHOCKING!]
She shouted "girl power" when she saw more women doing woodworking at the center than men.
At the event, Parton gave her own secret to staying young: Be busy, stay active and get involved.
The Associated Press contributed to this article.