The circumstances surrounding the sudden untimely death of pedophile billionaire Jeffrey Epstein seem to grow more mysterious every day.
Guards at the facility are suspected of falsifying log entries to show they were checking on inmates in his unit every half hour when they actually weren't, The Associated Press reported late on Tuesday.
Sponsored: Hillary's "hit list" revealed. You won't believe who's next…
But that's just the beginning of the questions surrounding the last minutes of Epstein's life.
A stunning message, released just 38-minutes before Epstein's death was announced, was posted on the infamous internet chat board 4chan saying there was information coming on his fatal strangulation.
According to CBS News, anonymous sources inside the prison report "there was shouting and shrieking from his jail cell" on the morning of his death. Guards could be heard shouting "breathe, Epstein, breathe" as they attempted to revive him.
The New York City Fire Department has launched an investigation of their first responders and other medical personnel amid suspicions that a leaker revealed the death of Epstein to 4chan, an anonymous message board, before the story was reported to mainstream media reporters on Saturday.
"[D]on't ask me how I know, but Epstein died an hour ago from hanging, cardiac arrest. Screencap this," said an anonymous user posted Saturday at 8:16 a.m EDT on 4chan.
[
Sponsored
]
3 foods that help your blood pressure
ABC News reporter Aaron Katersky first published his tweet reporting Epstein's death at 8:54 a.m., 38-minutes after the anonymous message went out.
The following screen capture was shared by Breitbart —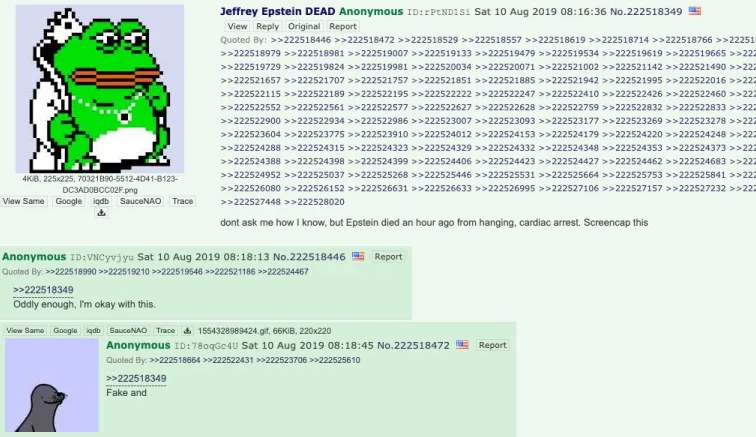 "After publishing the post, other 4chan users egged on the author," Buzzfeed reported. "When they expressed doubt, the original poster added more information to the discussion thread, including a detailed breakdown of the procedures allegedly used to resuscitate Epstein, which suggest the poster may have been a first responder, medical worker, or otherwise privy to details about efforts to resuscitate the disgraced financier."
Sponsored: THIS takes the cake for the worst thing Obama has ever done
The Justice Department says the two guards assigned to watch Epstein when he died in jail have been placed on administrative leave.
The department also said in a statement Tuesday that the warden at the Metropolitan Correctional Center has also been temporarily reassigned to an office post pending the outcome of two investigations. Both the FBI and the Justice Department's inspector general are investigating Epstein's death.
Attorney General William Barr has expressed outrage that Epstein was able to take his own life Saturday while under the care of the federal Bureau of Prisons while the inmate was facing sex trafficking charges.
The Justice Department says the warden of another facility in upstate New York has been named the acting warden at MCC. The Department says it will take additional personnel action as warranted.
Sponsored: DIY cancer cure dissolves tumors in as little as 48 HOURS
"With Epstein gone, potential co-conspirators involved in his alleged sex-trafficking network are shifting into focus. British socialite Ghislaine Maxwell is one of four women accused of recruiting underage girls for sex," CBS News reported. "She's denied those claims in the past and has not been charged with a crime. Maxwell is said to be Epstein's ex-girlfriend turned business associate. Her current location is unknown."
The Associated Press contributed to this article