Former First Daughter Chelsea Clinton has become a reliable presence on Twitter.
She upped the frequency of her tweets during Donald Trump's presidency. She tweeted 1,855 times in 2016 and 4,667 tweets in 2017, according to TweetStats. In April 2017 alone she made 725 tweets. That's more than 20 per day.
Through Twitter, Chelsea has been sounding off about her favorite political issues. Now she's has taken up a new cause: a vaccine mandate for domestic air travel.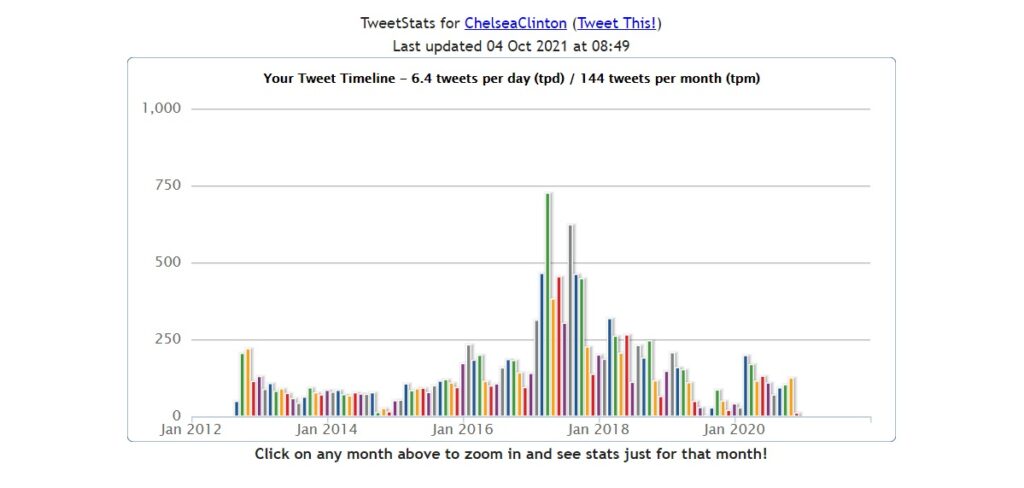 Sponsored: The #1 mistake most doctors make (regarding your blood pressure)
Chelsea boosted the views of Dr. Ashish K. Jah, an academic at Brown University.
"Its [sic] time for vaccine mandate for air travel," tweeted Jah. "Basically, we can't expect mitigation measures to be enforced well enough to prevent transmission on airplanes forever."
Jah defended his position with anecdotal evidence. He also claimed that Canada has adopted a vaccine mandate for domestic air travel. Critics say that's not true.
Canada has announced a vaccine mandate for domestic travel, but the country hasn't actually implemented the mandate yet. The Canadian Treasury Board expects to enforce the mandate by the end of October, the board said in a press release from August.
Clinton "liked" Jah's tweet. Take a look —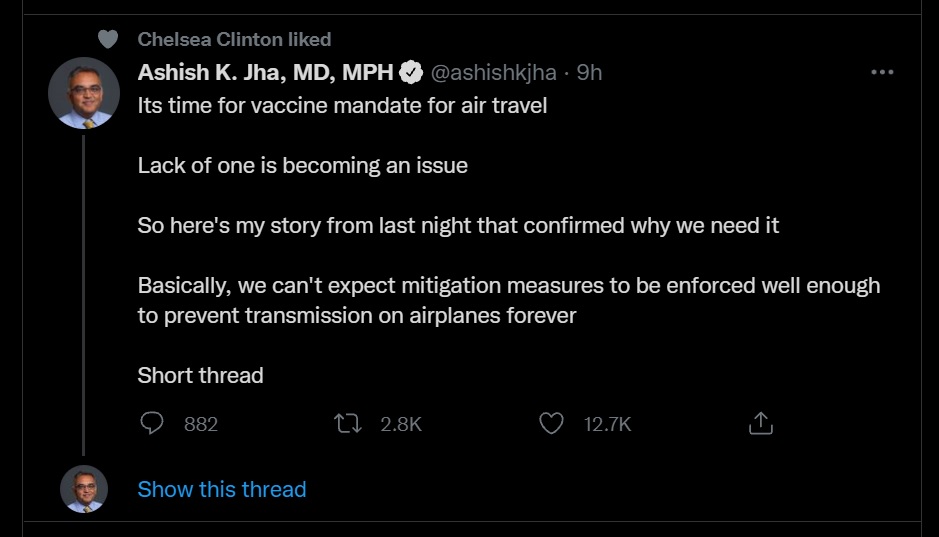 Are you taking the BEST form of zinc? [Sponsored]
Airline executives remain skeptical about the practicality of these potential mandates.
United Airlines CEO Scott Kirby described the potential mandates as "logistically impractical" during an interview with MSNBC.
Delta Airlines CEO Ed Bastian worried about a "logistical dilemma" on CBS This Morning.
And American Airlines CEO Doug Parker warned of "enormous delays" while speaking with The New York Times.
Still, domestic air vaccine mandates have been gaining support in the Democrat-controlled Congress.
Sen. Dianne Feinstein (D–Calif.) introduced a bill to require domestic air travelers to present either their vaccine cards, negative test results, or documentation of a recovery from the virus.
Sponsored: Surprise! Eggs do this to senior brains
Feinstein introduced her bill after a similar bill was introduced in the House by Rep. Don Beyer (D–Va.).
Now, Chelsea Clinton seems to be joining their cause.
Last night I took an overnight from LAX to Boston

I got to the gate, found myself next to a person whose mask barely covered her mouth

Mask was nowhere near her nose let alone covering it

I walked away

My flight boarded and I sat down in a window seat

She soon sat next to me

— Ashish K. Jha, MD, MPH (@ashishkjha) October 4, 2021
But vaccine mandates for air travel are

Canada has done it

We should too. Mandate vaccine or negative test for air travel

I understand the person next to me had the freedom not to be vaccinated

The old man next to her has the right to fly without getting infected

End

— Ashish K. Jha, MD, MPH (@ashishkjha) October 4, 2021
The Horn editorial team