Ratings and game attendance have plummeted for the NFL — and the photos from around the league Sunday are jaw dropping.
Just how bad has attendance gotten? Deadline reports that Fox Sports was caught paying actors to show up and pretend to be Los Angeles Rams fans on Sunday.
And across the league, ticket prices have plummeted as fed-up fans stay home.
BUSTED! Liberal celeb betrays U.S. with this scandal… [Sponsored]
Since the anthem kneelers began their protests, the FL has seen less and less fans show up for their games.
Not many fans were around to watch Green Bay Packers down the Cleveland Browns in a 27-21 final.
#loyalty #ClevelandBrowns #GoBrowns #firstwin #cleveland pic.twitter.com/xMPcEXD9NP

— DigitalDaddy (@digital_lif3) December 10, 2017
Home team Cincinnati Bengals got rocked by the hapless Chicago Bears, but no one was there to see the embarrassment.
Diabetes REVERSED: Dr. Mark Stengler unveils his step-by-step cure for type II diabetes [Sponsored]
Tons of empty seats at Paul Brown Stadium. At our hotel they had $18 tickets available. #Bears #Bengals pic.twitter.com/ScIOhiIdxq

— George Smith (@georgesmithtv) December 10, 2017
It looks as though they are more seats than fansto witness the Detroit Lions beat the Tamp Bay Buccaneers.
15 minutes before the Tampa Bay Bucs and Detroit Lions kickoff. A lot of empty seats and A LOT of blue pic.twitter.com/w5Pzi8qsfp

— Katherine Smith (@katsmithsports) December 10, 2017
Even with the Carolina Panthers scoring a major win against the Minnesota Vikings, they could not fill those blue and black seats.
Men: why you should NEVER take a sip of this beverage [Sponsored]
This is BengalsSnob reporting live from Bank of America Stadium pic.twitter.com/6FrAr3sZpR

— Bengals Snob (@BengalsSnob) December 10, 2017
Apparently, Houston Texans' fans were too busy to come watch their team lose to the San Francisco 49ers.
Let's go @49ers where my 9ers go, I go !!!! #houston #nrgstadium #49ers #saloonsquad pic.twitter.com/EbHtvKoqzj

— Ivan (@boyleheights13) December 10, 2017
And for the emptiest stadium this week, check out New Jersey's MetLife Stadium.
Sponsored: [Proof Inside] Cancer Cure Found in Old Roman Church?
Giants fans fired up for the return of Eli Manning pic.twitter.com/y2EbYXvow5

— Dan McDowell (@bracketdan) December 10, 2017
On Sunday, there were also plenty of front row seats still available at the first place Jacksonville Jaguar's game.
Good seats still available in Jacksonville. #Seahawks pic.twitter.com/DYekjYYw10

— Ian Furness (@IanFurnessSea) December 10, 2017
This chemical engineer discovered a joint health breakthrough in his kitchen [Sponsored]
It's so bad, Fox Sports have begun paying actors to come to their pre-game show and act like they're fans.
Yup, it has gotten bad enough that people are being paid to show up to games.
The network was caught scouting for fake fans to appear at the Los Angeles Rams and Philadelphia Eagles this past Sunday.
According to Deadline, the casting call read "We're looking for LA's biggest NFL fans to be a part of #NFLSunday's Los Angeles Rams vs. Philadelphia Eagles Pre Game Show! Calling all LA Rams fans! Come out, bring your spirit, your best NFL gear & join us for NFL on Fox this Sunday!"
Sponsored: 10-second pain relief with finger exercise?
It was unreported whether or not a ticket would be included in the appearance.
But, it if wasn't, that's no big deal. NFL ticket prices are lower than ever before!
In years past, NFL tickets cost hundreds of dollars on the secondary market. But now, attending an NFL game costs about the same price as a McDonald's Happy Meal.
According to IJR, tickets for Sunday's game between Buffalo Bills and Indianapolis Colts were as low as $4.
Sponsored: Does Genesis 5:27 reveal the cure for aging?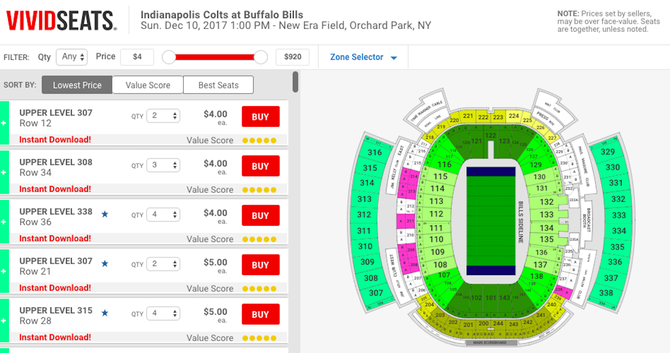 Even big name teams are not faring well.
Tickets to see the playoff contender Baltimore Ravens start at roughly $30, tickets to Chicago Bears are around $20, and tickets to the legendary Green Bay Packers are only $10.
Sponsored: New "Chemo-pills" reportedly have zero side effects [available now]
Things are definitely getting desperate for the NFL.
–The Horn editorial team