A spring nor'easter targeted the Northeast on Wednesday with strong winds and a foot or more of snow expected in some parts of the region.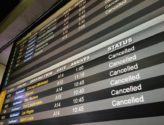 Airlines canceled flights and schools canceled classes ahead of the fourth major storm in three weeks. Conditions were calm in most areas early Wednesday, but forecasters said the storm was expected to kick into high gear by early afternoon.
Sponsored: THIS drink caused a testosterone-killing epidemic (are you at risk?)
"I didn't think I'd still need to keep storm stuff in my car in late March, but what are you going to do?" Wilson Collins said as he prepared to leave his Toms River, New Jersey, home on Wednesday morning, checking his trunk to make sure he had a shovel, a blanket and other emergency items. "I'm hoping most of the snow will accumulate just on the grass, but the roads will be a mess no matter what. I just hope this is finally it."
Residents were being urged to stay home and off the roads, if possible, on Wednesday, so crews could work to keep streets clear.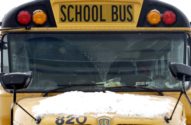 Landscaping crews along the New Jersey coast tended to shrubs and plants at oceanfront homes, and then packed up their garden tools to get ready to plow. Shore towns positioned bulldozers, front-end loaders and other heavy equipment to deal with beach erosion.
The bulk of the snow and sleet was expected to pound New Jersey, Maryland, Delaware and parts of eastern Pennsylvania on Wednesday before heading toward Cape Cod early Thursday.
Sponsored: The #1 mistake most doctors make (makes your BP higher)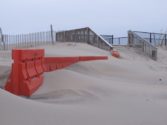 Widespread power outages were possible with gusts blowing up to 35 mph (56 kph).
In Philadelphia, where wind-whipped snow fell on Tuesday, restaurant server Katy Halbeisen called the early-spring storm "pretty lame."
"Yesterday I was walking around and saw little birds taking a bath and it looked like they were thinking it would be spring. So I feel bad for those little birds," she said.
Dog walker Emily DiFiglia said she was done with winter.
Sponsored: [FREE VIDEO] Trace your ancestry all the way back to Adam with this simple trick
"I'm outside all day long. So having the weather constantly fluctuating has driven me a little mad," she said on Philadelphia's South Street. "Mother Nature, let's get some warm weather!"
The flight-tracking site FlightAware reported more than 3,000 canceled flights across the U.S. on Wednesday, most in the Northeast.
On the ground, Amtrak scaled back service on the Northeast corridor and some states banned certain types of trucks from major highways.
The Associated Press contributed to this article.