Mark Cuban, billioanire owner of the NBA's Dallas Mavericks and outspoken critics of President Donald Trump, has a warning for Democrats.
In an interview with CNBC, Cuban was asked who he thought could beat Trump in the election.
"Nobody right now," he said — and it's something that none of the current 20+ candidates can't avoid.
"If you look at why people voted for Donald Trump, in my opinion, first and foremost it was because he wasn't a politician. "
Sponsored: This Obama video INFURIATES Dems
"Politicians are the least trusted of every profession," he continued. "I still think there's a real opportunity for somebody who is in the middle but has some charisma, has the ability to relate to both sides but is not a politician."
Cuban's prediction means trouble for politicians like Joe Biden. The moderate Democrat and former vice president is trying to strike a middle-of-the-road balance, while at the same time trying to appease far-left radicals that have recently come to power in the party.
What would make Biden electable for Democrats is also going to be his quick downfall against Trump, Cuban warned.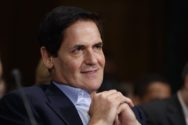 NONE of the candidates stand out from one another, the billionaire NBA owner said. He called their policies nothing but "headline porn."
Perhaps he's right. By now each candidate has promised billion-dollar giveaways that are really just fantasies instead of policy.
Sponsored: Eat these 3 foods before your next blood pressure test
Cuban, who is mulling a possible 2020 run himself, told CNBC that he'd run as an independent candidate, stressing that what America wants is somebody who isn't tied to the bare knuckle infighting of politics on either party side.
"It would take the perfect storm for me to do it," he said. "There iss something that could open the door."
In the past, he made similar remarks saying, "If [Trump] lasts four years, I'll be there to kick his [butt]. We'll see. I'm not making any proclamations yet."
But if Cuban is looking at a 2020 run, he'll have to be cautious. Trump won't even be his biggest competition.
It'll be fellow Democrats, who recently attacked former Starbucks boss Howard Schultz for even entertaining the idea of entering the race.
Sponsored: 1 Little Capsule – 23 Pounds GONE In 60 Days
Democrats argued that Schultz running as an independent would hand Trump a 2020 re-election.
Cuban warns that the Democrats are already doing that themselves.
The Horn editorial team