On Monday, President Joe Biden spoke on the White House lawn to celebrate the passage of the Bipartisan Safer Communities Act, a law regarding gun control — and one man in the crowd let him know that America isn't happy.
"Today is many things," Biden said. "It's proof that despite the naysayers, we can make meaningful progress on dealing with gun violence."
One heckler wanted more.
"We have to do more than that!" one attendee shouted in response.
Sponsored: Do NOT Take CBD Until You Read This
At first, Biden told the protestor to stop talking.
"Sit down. You'll hear what I have to say," the president said. "Let me finish my comments."
The protestor continued to interrupt. "We have to do more than that," the protestor repeated. "We have to open an office in the White House… I've been trying to tell you this for years!"
"We have one," Biden said.
Biden eventually conceded, and he opened the floor to other speakers.
"Let him talk," the president said. "No one? OK."
Take a look —
Biden got interrupted by a protester at The White House pic.twitter.com/rmM8CIfxMk

— Benny Johnson (@bennyjohnson) July 11, 2022
The protestor was reportedly Manuel Oliver, whose son Joaquin was killed during a 2018 mass shooting in Parkland, Florida.
On Friday, Oliver was tweeting about his plants to press Biden at Monday's event. He also tweeted a picture of himself in Washington, D.C., on Monday.
Sponsored: M.D. Shares Weird Tongue Technique For Perfect Sleep
At some points in the video, Oliver was receiving more applause than Biden. Oliver was even joined by another attendee, who shouted, "President Biden, yeah!"
Yet, the White House omitted much of Oliver's applause from the official transcript.
Take a look —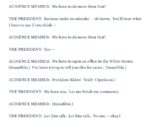 Protests are rare on the tightly secured White House lawn. Oliver himself appeared to have been escorted away from the event after his outburst.
Several Republicans — including Sen. John Cornyn of Texas — attended the event to commemorate the bipartisan law.
"I know this bill is not going to please everyone. Some think it goes too far. Others think it doesn't go far enough. And I get it," Cornyn said on the Senate floor while negotiating the law. "But the nature of compromise and the nature of actually wanting to get a result requires that everybody try to find common ground where we can."
Age-Rewinding Tech Improved 90-Year-Olds Mitochondria To A 30-Year-Olds [sponsored]
The protestor characterized the gun law as insufficient… and Biden agreed.
"Make no mistake about it," Biden said. "This legislation is real progress, but more has to be done."
Good job on the executive order, Mr. @POTUS! Why is it that you didn't react the same way when the @USSupremeCourt decided to add more victims to the #gunviolence epidemic? I can't wait to see you on Monday so you can explain. pic.twitter.com/wxNGLpN6YH

— Manuel Oliver (@manueloliver00) July 8, 2022
See you at 8:15 live from DC. Our reactions before, during, and after the White House "Celebration" @ChangeTheRef pic.twitter.com/3RlSO2Zefw

— Manuel Oliver (@manueloliver00) July 11, 2022
The word CELEBRATION has no space in a society that saw 19 kids massacred just a month ago. "Most people overestimate what they can do in one year and underestimate what they can do in ten years." Not me, not Joaquin. @ChangeTheRef

— Manuel Oliver (@manueloliver00) July 11, 2022
A man who got up during ⁦@POTUS⁩ remarks on gun control is escorted out of the White House event. pic.twitter.com/p0YpWezmRq

— Jeff Mason (@jeffmason1) July 11, 2022
The Horne editorial team