House Speaker Paul Ryan has been, for the most part, anti President Donald Trump since January.
It has led to a general distrust of the establishment by Trump supporters, but now one Air Force veteran is speaking out.
In a letter to Ryan, the anonymous veteran addressed Ryan's reaction to recent violence erupting around the country, as first reported by The Gateway Pundit.
LEAKED: This video will DESTROY Hillary's 2020 hopes [sponsored]
She made her disapproval for the speaker clear, and offered a chilling warning should he continue to separate himself from Trump and his supporters.
"We are here sir, and we are watching you. Don't think for a moment that we the people will continue to allow you and your ilk to lie, cheat, and steal from us. We're tired of it. We won't take Antifa's and the Alt-Left's path and resort to violence. No. We'll sop opening our wallets for your campaigns, and we'll cast our votes elsewhere. That's what will really get our point across."
The full letter is below: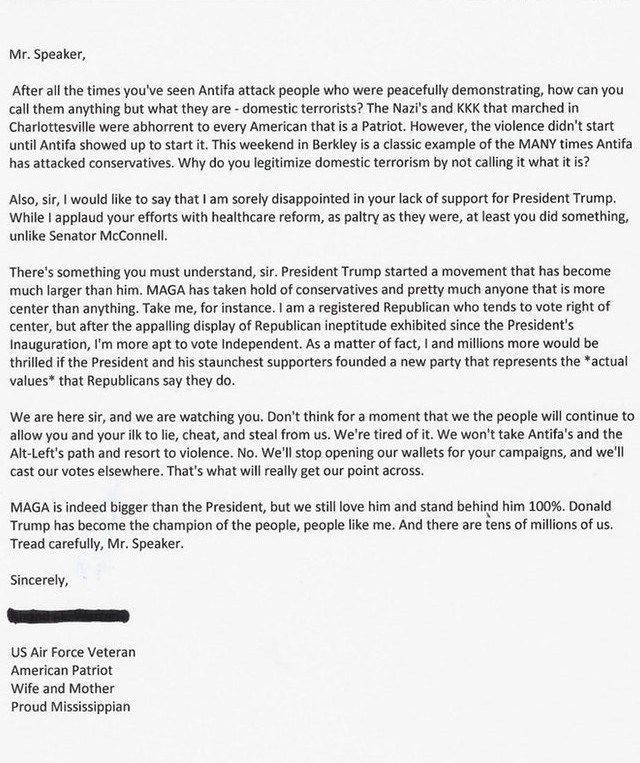 Following the violence in Charlottesville, VA, Ryan condemned Trump's response saying, "There are no sides. There is no other argument. We will not tolerate this hateful ideology in our society."
Sponsored: The Garden of Eden secret you WON'T hear in church
But he has yet to condemn the violence and hateful ideology of the Antifa group against Trump supporters, most of whom do not identify with hate groups.
With the further separation between Trump and the establishment, they should start worrying about their reelection chances.
-The Horn editorial team