"Scare-actor" Laura Law once frightened a patron so badly at Universal Orlando Resort's Halloween Horror Nights that the woman peed in her pants.
Graceful and mild-mannered, the 31-year-old actress didn't come across as someone who could have such an effect when she arrived recently for her transformation into the Wicked Witch of the West for the 28th year of Universal Orlando's celebration of all-things-horror. Law has been a "scare-actor" for five years.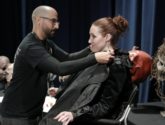 She was already in her purple tights and black dress, her red-hair was in a ponytail and her green contact lenses were in by the time she plopped down in a makeup chair. A black smock protected her dress as makeup designer Eric Garcia prepared to work his cosmetic witchcraft on her pale face.
Sponsored: Do THIS after you brush your teeth to fall asleep in minutes
"It's fun to be creepy and scary, right?" she said.
Halloween Horror Nights is an all-hands-on-deck affair at the Orlando, Florida theme park resort, as well as at Universal theme parks in California, Japan and Singapore. This year, the Orlando Halloween celebration will have 10 haunted houses, several recalling slasher films or pop culture from the 1980s, including a house modeled after the Netflix hit TV show, "Stranger Things."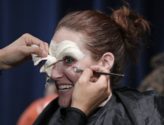 Halloween Horror Nights lasts for 36 nights, but it's planned for more than a year. Each haunted house is a small, temporary attraction, elaborately designed and themed, built with studious attention to details and populated with "scare-actors" who chase but never touch the thousands of patrons passing through each night. This year's Halloween celebration opened in mid-September.
"I don't think anybody does it bigger or better than we do," said Patrick Braillard, creative development show director at Universal Orlando.
Sponsored: 'No-pill' trick ends sleepless nights [report enclosed]
In the makeup chair, Garcia applied glue to Law's face. Next came a rubbery prosthetic that Garcia placed over her nose and forehead. Its whiteness gave her a "Phantom of the Opera" look and its shape gave her a hook nose and textured skin. Garcia then placed on a white, pointed chin prosthetic and started painting her face with white and flesh colors using a small sponge. He painted on black eyebrows and small wrinkles with a tiny brush. She said, "People don't think it's a real thing, but you can smell the fear in people a little bit."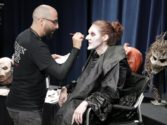 Law, who doesn't like to be scared herself, smelled the fear of the woman she made have an accident one year while working in one of the "scare zones," areas in the parks outside of the haunted houses where performers roam around giving jolts of fright to passers-by. Law casually walked up to the woman and the woman freaked out, running away. Law spotted the woman a short time later on a bench, walked up next to her and just stood there. The woman ran away again. Later, the husband came up to Law's supervisor and told her the actress had made his wife pee in her pants.
"I was like 'Yessss!'" she said. "I didn't mean to. It was such an easy scare."
In the "ScaryTales" haunted house where Law is working this year, she is the center of a plot that has the Wicked Witch of the West seizing control of the fairy tales and giving tortured fates to storybook characters such as Humpty Dumpty, who is found splattered on the walls. She is one of the last scares in the house.
Sponsored: Shocking Object Found In Maryland Woman's Body
"By then, they're terrified and they're just ready to get out," she said.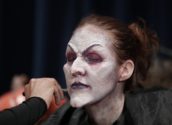 The makeup designers wanted to give the witch a regal appearance. They also tried to make it seem as if her witchcraft powers were bursting from cracks in her skin, changing her from human to witch, said Skeet Karsgaard, an assistant manager for makeup.
Listening to Karsgaard as the finishing touches of her makeup were being applied, Law said it helped to hear the character's back-story. "Just for your body posture and the way you do things," she said. "Makes me realize I need to stand up taller. I'm-the-boss kind-of-thing."
About 3,000 people audition to be "scare-actors" each year and just under half make the cut. The "scare-actors" are cast by body type; a performer playing the Demogorgon from "Stranger Things" needs to be the size of a linebacker.
CAUTION: Your pizza could be giving you cancer [sponsored]
Four of the haunted houses share break-rooms and the performers learn everything about each other during a Halloween Horror Nights season. Everything, that is, except what they really look like under layers of makeup, wigs and prosthetics.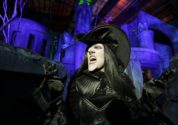 "We call each other by our character names. I don't think we learn each other's real names sometimes," said Law, who by now had red raccoon eyes, translucent skin, arched black eyebrows and a black wig.
Her transformation, after almost an hour, was completed with a black corset, a black cape, black gloves and a black hat.
"You want a cackle? I can cackle," she said. Then, turning on the performance, she said, "I am a witch and the land of the fairies is no more. Yahahahahaha."
The Associated Press contributed to this article.