Fox News' controversial decision to fire star anchor Bill O'Reilly has shocked the world — and 95% of the nearly 19,000 voters The Horn News polled agreed.
Bad move, Fox News.
Sponsored: Rancher Warns Trump from Isolated Mountain, Click Here to See Why
In fact, the backlash against the cable news network has been so severe, there have been rumblings of a boycott all across social media.
Here's a screen shot of the results of our poll as of 1:55pm EST —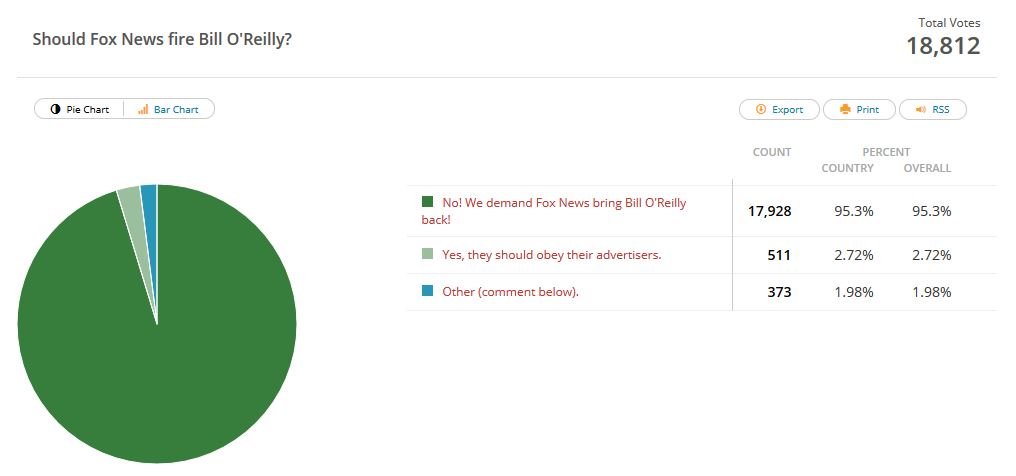 Fired on Wednesday amid a drumbeat of what his lawyer called a liberal conspiracy, the vacationing host's "The O'Reilly Factor" was quickly redubbed "The Factor" and Fox News announced his time slot will be filled by Tucker Carlson, another adamantly conservative Fox host who dovetails with the channel's audience.
His ratings made him Fox's most lucrative personality, with his show generating $178 million in advertising revenue in 2015, according to Kantar Media.
There was the prospect of even more, with his audience larger in the first three months of 2017 than it has ever been — until Fox News caved to advertiser pressure.
Sponsored: Surprising New Law Gives "Cash Rebate" to 119 Million Americans
O'Reilly has always denied any wrongdoing, and viewers have largely reacted negatively to the move. Under the threat of boycott, causing 21st Century Fox stock initially fell almost 1 percent Wednesday in heavy trading.
In a statement, O'Reilly called it "tremendously disheartening that we part ways due to completely unfounded claims."
O'Reilly's lawyers said he was the victim of an orchestrated campaign by liberal organizations like Media Matters for America, which contacted his advertisers to pressure them to leave the show. Conservative personality Glenn Beck — who once lost a job at Fox because a similar campaign choked his program of paying advertisers — came to O'Reilly's defense on his radio show and called on viewers to pressure Fox, to no avail.
Sponsored: Can God still bless America?
O'Reilly had ruled the "no spin zone" on television with a quick smile and an even-handed approach. He pushed a common sense, conservative-leaning point of view, and was the undisputed king of cable news.
But don't expect O'Reilly to slip quietly away, said Annenberg's Hollihan.
"Some other media outlet is going to pick him up and syndicate what he does. He's a brand on his own, as you can tell from all the best-selling books he's got," he said.
O'Reilly's "Killing" historical series, including "Killing Lincoln" and "Killing Reagan," have consistently sold 1 million or more copies in hardcover, a rare achievement in publishing. He has also had best-sellers with everything from the memoir "A Bold Fresh Piece of Humanity" to his most recent work, "Old School," which includes passages urging the respectful treatment of women.
Sponsored: When our ATMs go dark… click here to learn how to protect yourself
O'Reilly and co-author Martin Dugard are due to release another book in the "Killing" series in September, and a spokeswoman for publisher Henry Holt and Co. said that plans had not changed.
Have an opinion on Bill O'Reilly being fired by Fox News?
You can still vote in the poll here —
The Associated Press contributed to this article