Police in Dubai have reopened the streets around one of the world's tallest residential skyscrapers after firefighters put out a blaze that erupted early Friday in the high-rise, forcing residents to evacuate in the middle of the night and sending chunks of debris plummeting below.
No major injuries had been reported. A few people were treated for smoke inhalation, according to Dubai's Gulf News website.
Several residents said the fire broke out just after 1 a.m. at the 86-story Torch Tower – a more than 1,100-foot-tall (335 meters) residential building in Dubai's popular waterfront Marina district. The same building had also caught fire just two-and-a-half years earlier.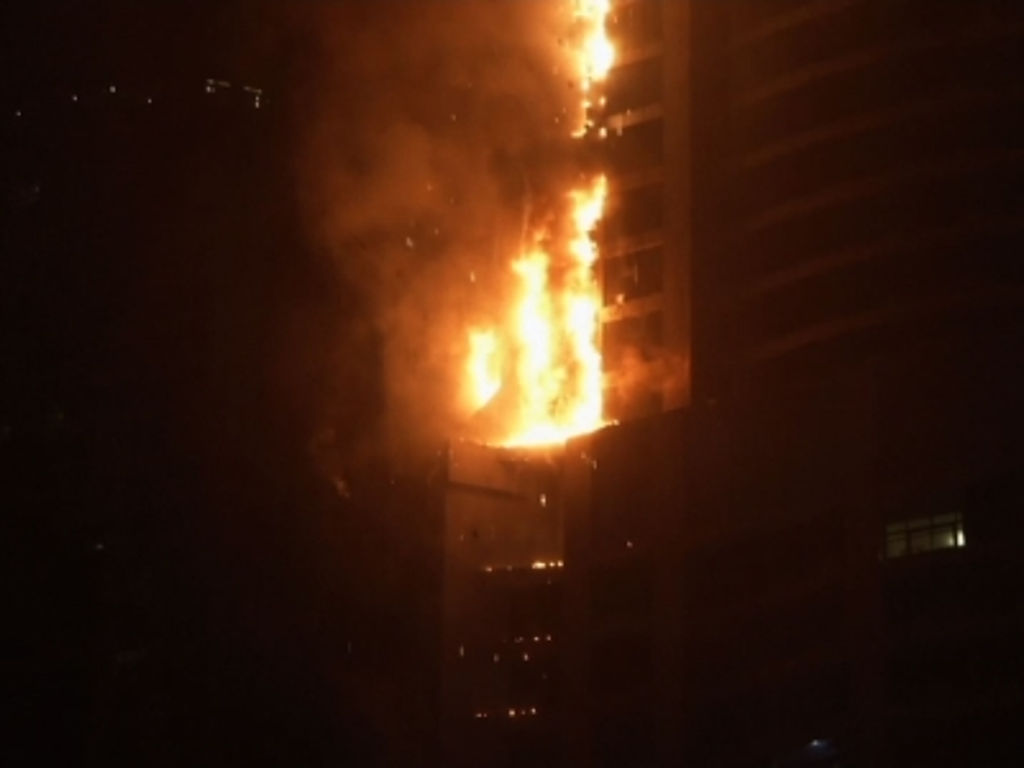 The cause of the fire on was not immediately known but in the past, such infernos in Dubai have been linked to highly flammable building cladding – as was the devastating June tower fire in London that killed at least 80 people.
"You never think it's going to happen to you," said Alireza Aletomeh, a resident of the tower. "I had cash in there, furniture, paintings. … Many things that are very valuable to me."
Aletomeh, a sales manager, said he moved to the Torch Tower just three months ago, snagging an apartment on the 54th floor of the luxury tower. He said he was coming home after midnight when building security guards told him to remain in the street because a fire had erupted.
He said his roommate grabbed their passports and that it took him more than two hours to come down the stairway because of the rush of people trying to get out at the same time. At least one woman passed out in the stairway, Aletomeh said.
More than 40 floors of the building on one side were engulfed in flames as residents looked on from below, many in tears. The firefighters battled the blaze for more than two hours.
Dubai's Civil Defense announced at about 3:30 a.m. that firefighters had brought the blaze under control and said cooling operations were underway. Authorities shared video of the building from the outside later on Friday, showing the entire length of the tower charred on one side.
By midday Friday, a few police cars could be seen in the area, but the streets had been wiped clean of the debris, some of which had fallen on cars parked below.
However, the skyscraper remained closed to residents, some of whom were moved to a nearby and even taller residential tower while others decided to stay with friends. Officials said they were working on providing shelter for those affected and assessing the damage.
The Torch Tower also caught fire in February 2015; there were also no casualties reported in that blaze. Parts of the building were still undergoing restoration work when the second fire broke out early Friday.
In both incidents, fire alarms alerted residents and building staff knocked on doors to ensure evacuation.
Aletomeh, who is now staying with friends, said towers like the Torch should have sprinklers. He wondered why Civil Defense crews did not deploy helicopters to try and extinguish the fire quicker.
"Putting out the fire was the most important thing, which took them so long," he said.
Simon Bach, a New Zealander who lives in a high-rise across the street, told The Associated Press he saw a few policemen as well as Emiratis in traditional white robes helping people get out. About 10 to 12 firetrucks arrived quickly on the scene, he said.
He said just as the firefighters had seemed to bring the blaze under control, falling debris ignited a part of the building further down.
"It seemed really out of control," he said. "People were streaming out of the car parks of the building."
Several skyscrapers in the United Arab Emirates have caught fire in recent years, including a towering inferno that engulfed a 63-story luxury hotel in Dubai on New Year's Eve in 2016. In that blaze, as in others in Dubai in recent years, residents escaped without major injury.
And on Thursday evening, in the neighboring emirate of Sharjah, an under-construction tower caught fire that raged for several hours as local media and nearby residents posted dramatic images of the blaze.
Earlier this year, Dubai passed new fire safety rules requiring buildings with quick-burning side paneling to replace it with more fire-resistant siding. Authorities have previously acknowledged that at least 30,000 buildings across the UAE have cladding or paneling that safety experts have said accelerates the rapid spread of fires.
While the new regulations are now in place for construction in Dubai and other cities, it's unclear how authorities will force owners to replace flammable siding with better material.
The tragic June inferno in London prompted Britain to order more thorough testing on the cladding systems of its towers.
The Associated Press contributed to this article