New York Governor Andrew Cuomo is upset about racism.
Fair, right?
Sponsored: Leaked! Hillary LOSES it on camera [footage inside]
One would think… until you listen to what Cuomo actually said. It seems that anti-Italian racism upset him so much that he decided to use the N-word during a live radio interview.
The on-air meltdown began with a conversation about Columbus Day and was quickly derailed when Cuomo shifted to the topic of Italian prejudice.
The liberal governor appeared on WAMC-FM and discussed a New York Times op/ed article about southern Italians.
"They used an expression that southern Italians were called," Cuomo said. "I believe they were saying southern Italians, Sicilians, I'm half-Sicilian — were called quote-unquote — and pardon my language but I'm just quoting the Times — 'n***** wops.' N-word wops."
A full transcript of the conversation can be read below:
Sponsored: Joe Biden humiliated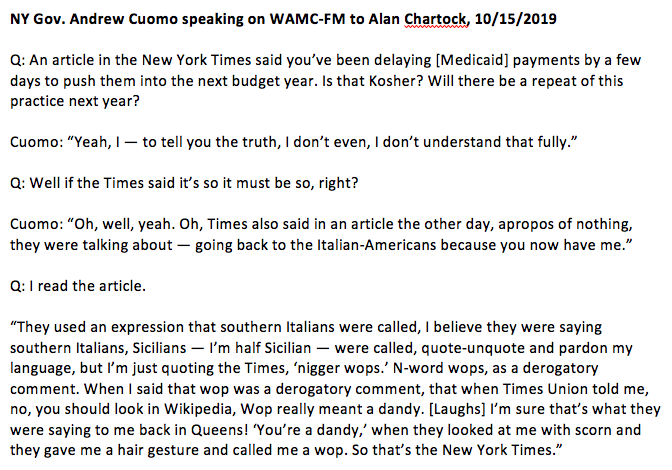 Needless to say, it didn't take long for the Twitter world to cringe at what he uttered.
Sponsored: Squeeze THIS 2 Times To Eliminate Your Pain
Andrew Cuomo dropping an n-bomb on the radio to make a point about anti-Italian racism…… mamma mia that's a spicy meatball ????????

— Brendan O'Connor (@_grendan) October 15, 2019
Perhaps one person may be spot on. "I'm so sorry, sane New Yorkers, that this is your governor," they wrote.
I'm so sorry, sane New Yorkers, that this is your governor. https://t.co/VaSYBUtdOf

— Smart Girl Politics (@OfficialSGP) October 15, 2019
And what Cuomo said has another person wondering how Cuomo was ever even elected…
Who voted for Andrew Cuomo? I mean like geez.

— Aaron Brown (@abrout) October 15, 2019
Cuomo's gaffe comes not too far after his younger brother, CNN star Chris Cuomo, went berserk on a group of hecklers in public and claimed the term"Fredo" was also a racial slur.
Sponsored: Why your blood pressure isn't where you want it (hint: it's not your fault)
It's only the latest example of the "holier than thou liberals" simply making up the rules for political correctness as it fits them.
The Horn editorial team