Lava from Hawaii's Kilauea volcano destroyed hundreds more homes overnight, overtaking two oceanfront communities where residents were advised to evacuate last week, officials said Tuesday.
Hawaii's governor and federal emergency management officials are expected to travel to the Big Island on Thursday to assist residents who have been evacuated.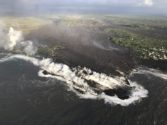 On Wednesday, over 500 earthquakes hit the Hawaiian island and volcanologists said a river of molten rock reached upwards of 20 feet tall, tearing through Kapoho Beach Lots and Vacationland.
Sponsored: Christian doctor unlocks 'Holy Code' to Cure Virtually ALL Diseases
"We don't have an estimate yet, but safe to say that hundreds of homes were lost in Kapoho Beach Lots and Vacationland last night," Janet Snyder, a spokeswoman for Hawaii County, said Tuesday.
A morning overflight confirmed that lava had completely filled Kapoho Bay, inundated most of Vacationland and covered all but the northern part of Kapoho Beach Lots, scientists with the U.S. Geological Survey's Hawaiian Volcano Observatory said.
Hawaii's Kilauea volcano claims hundreds more homes as lava takes over oceanfront communities. Story: https://t.co/UfVExoqOSX pic.twitter.com/bipzs32fBr

— AP West Region (@APWestRegion) June 5, 2018
Vacationland disappeared as lava poured into two oceanfront subdivisions, smothering hundreds of homes and filling an ocean bay, turning it into new land that now juts into the sea.
Sponsored: Eat these 3 foods before your next blood pressure test

"The bay is completely filled in and the shoreline is at least 0.8 miles out from its original location," said Geological Survey geologist Wendy Stovall. "Vacationland is gone, there is no evidence of any properties there at all. On the northern end of that, there are just a few homes in the (Kapoho) beach lots area."
Gov. David Ige signed a second supplemental emergency proclamation Tuesday that gives the county more options for shelters and sets criminal penalties for violating emergency rules, such as failing to evacuate and interfering with emergency workers.
Thousands of people in the Puna area had to evacuate after the first fissure opened May 3. Officials issued mandatory orders for residents of Leilani Estates, and those in Kapoho Beach and Vacationland were advised to leave last Friday or risk being trapped and unreachable by emergency crews.
Sponsored: DIY cancer cure dissolves tumors in as little as 48 HOURS
Homes in Kapoho Beach Lots and Vacationland are on smaller lots and closer together than those in other parts of the Puna district. Okabe estimated there are several hundred homes in each of the two subdivisions.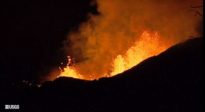 Those who live or vacation in the area were mourning the loss of popular tide-pools where kids enjoyed swimming.
"That coastline is really important to us— a place where we spent time with our family," said Franny Brewer who lives in upper Puna.
She reminisced about taking her daughter to swim in the ocean for the first time in a local swimming spot known as Champagne Ponds.
Sponsored: Have you heard of this new sleep sensation?
"I've been crying a lot," she said. "It's hard because obviously a lot of people have lost a lot more than just a beautiful place to visit and memories."
The Associated Press contributed to this article.