Whether he's called Santa Claus, Father Christmas or Pere Noel, he had a slew of jolly, red-suited lookalikes hit the ski slopes on Sunday in Maine.
About 180 Saint Nick wannabes participated in the fundraising event hosted by Sunday River that was not for the faint of heart: The group tackled more challenging terrain than the traditional bunny slope during the 18th annual Santa Sunday.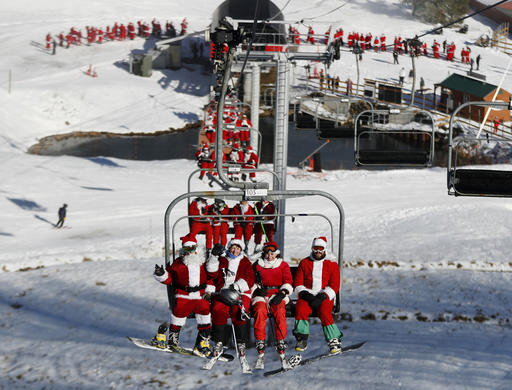 Predictably, a few tumbled, but no Santas were harmed.
"This is the right way to start the holiday season," said Yelena Walsh of Boston, who's participated for the past four years. "It's so much fun."
Walsh, a former professional skier from Russia, said her technique to avoid calamity in the in the crowd of red suits, skis and poles is to race ahead of the pack.
She enjoyed herself so much that she remained in costume, handing out candy canes to children. "This whole activity, it moves you back to your childhood," she said.
Online registration filled up in minutes for the popular event.
Santa Sunday raises money for the Sunday River Community Fund, a local charity. Resort officials say the event raised $2,845.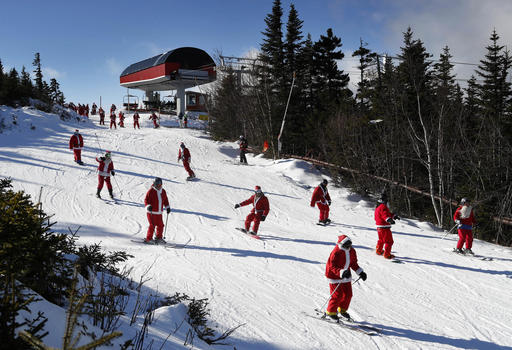 Participants were required to donate at least $15. In exchange, they were allowed to ski for free and to receive another lift ticket good through Dec. 16.
Sunday River spokeswoman Darcy Lambert said the trickier trails didn't prove too difficult for this year's Santas.
"There were probably as many tumbles as years past, but that's to be expected," she said. "By the looks of it, everybody had a great time and enjoyed the snow."
The Associated Press contributed to this article.